Vanity fair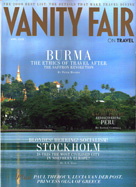 In Goa, at the glorious Aashyana Lakhanpal villa on Candolim beach. You swim in a diamond blue pool being dive-bombed by dragonflies; a mongoose washes his whiskers; butterflies skim the water to drink. One is having a Scheherazade moment on the edge of the Arabian sea.
There is a go-go-goa around; the Duke and Duchess of Devonshire, the Marquess and Marchioness of Douro, Christopher Balfour, the former chairman of Christie's all Aashyana guests.
Meanwhile, it is closed-door glamour. Intriguing villas, boho small hotels. Aashyana is a dreamboat; a modern design in lush gardens, right on the beach with masses of space for everyone to get away from everyone else (such a blessing as the week progresses). There is Marmite at breakfast, so reassuring. The masala omelette may look as if it's been run over but the lime soda, sweet combined with salt, is a winner. Along the positively Bauhaus corridor of polished concrete are old framed posters. "Pear's soap, Pure as the Lotus", "Learn Without Sorrow the Eternal Truth that Youth is Godlike, and Beauty is Youth". If over a certain age, best not read before tottering to the pool.
Aashyana's trump card is the beach–the same beach as the Taj awfully named village, but much further along. It's also in Goa's social-central on the north coast.