Traveller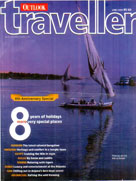 PERSONAL CHOICE
Alexander Frater, Author 
FAVOURITE HOTEL IN THE WORLD?
Used to be The Oriental in Bangkok with its Writer's Room, powerful historical resonance -Joseph Conrad once moored his ship off the end of the garden - and suites so luxurious even the butlers had butlers, But it's been 10 years since I last checked in, and I've no idea what it's like now. So I shall nominate the Aashyana Lakhanpal in Goa.
LAST VISITED? 
August 2008. I stayed, I think, for four days.
THE EXPERIENCE?
It's a lovely, intimate little hotel taking only 22 guests and created by a local entrepreneur named Ajai Lakhanpal. The shadowy garden, with its coconut groves, lime, cashew and ' guava trees, contains a dragonfly-spangled , swimming pool, a gate to Candolim beach,  also a pavilion from which to watch Goa's stu-pendous oceanic sunsets,
The suites are airy, homely and comfortable, a feng shui expert having ruled on the choice of colours, also the placing of plants, mirrors and waterbodies. "Where we wanted a foun¬tain," I learned, "she said no, you will have a tank. And you must put fish in it."
There is an informal gallery where guests may ponder a unique collection of modern Indian art. Lakhanpal, before he turned his home into a hotel, threw it open to any young painters requiring free board and lodging, and in return asked only that each give him a picture. They're hanging there today, among the most interesting a portrait of Lakhanpal himself by Goa's most famous son, Mario Miranda,
One point to bear in mind is that, during the month of February, the entire place is taken over by a party of British aristos. (They include the Duke and Duchess of Devonshire, the Marquis and the Marchioness of Douro - he will be the next Duke of Wellington - and Lord and Lady Irwin; Irwin's great, great grandfather, it turns out, was a Viceroy of India.)
THE FOOD?
Outstanding. Each day Jagat Singh, the chef, asks guests what they want. He'll cook them anything, but fish is most popular - and served so fresh it's almost skidding around the plate.
THE HOTEL'S USP?
In a word, peace
REPEAT VISIT?
You bet. Towards the end of the year.